Accessories for the DP4801
MOTOTRBO™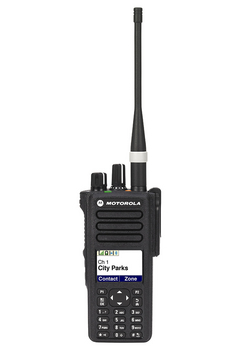 DP4801
If you are interested in purchasing this radio, contact your Motorola Solutions Authorised Dealer.
The fully-featured DP4801 portable delivers unrivaled voice and data communications with optional integrated GPS plus Bluetooth audio and data, text messaging full-colour display with day/night mode to make reading text messages easier, and best-in-class audio that includes Intelligent Audio and customisable voice announcement feature.

Available in UHF and VHF frequency bands, the DP4801 features a 5-line display, full keypad, up to 1,000 channel capacity, five programmable buttons, emergency button, IP57 specifications for submersibility and FM intrinsically safe option.
Back
DP4801

Loading
Results
Compatible Accessories
Ear Microphone Solutions

IMPRES 3-Wire Surveillance Kit, Black

AUD$261.00 (exc. GST) add to cart

CHARGERS & VEHICULAR ACCESSORIES

Motorola Travel Charger

AUD$155.00 (exc. GST) add to cart

Wireless Solutions

Business Wireless Accessory Kit Solution

AUD$100.00 (exc. GST) add to cart

Batteries and Chargers

IMPRES Hi-Cap Li-Ion 3000 mAh Battery, Low Voltage (IP68)

AUD$201.00 (exc. GST) add to cart

IMPRES?Ÿƒ???›ƒ???› SMART ENERGY SYSTEM

IMPRES™ 2 Multi-Unit Charger with Display

AUD$1020.00 (exc. GST) add to cart

Audio Accessories

Mag One Swivel Earpiece With In-Line Microphone and PTT

AUD$62.00 (exc. GST) add to cart

AUDIO ACCESSORIES

1-Wire Earbud, 29cm, Black

AUD$80.00 (exc. GST) add to cart

AUDIO ACCESSORIES

1-Wire Earbud, 116cm, Black

AUD$80.00 (exc. GST) add to cart

AUDIO ACCESSORIES

Replacement Wireless Earpiece, 12" Cable

AUD$235.00 (exc. GST) add to cart

AUDIO ACCESSORIES

Ultra-Lite Headset

AUD$200.00 (exc. GST) add to cart

AUDIO ACCESSORIES

Lightweight Headset

AUD$160.00 (exc. GST) add to cart

Audio Accessories

D-Shell Receive-only Earpiece

AUD$18.00 (exc. GST) add to cart

Audio Accessories

D-Shell Earset

AUD$120.00 (exc. GST) add to cart

Audio Accessories

Receive-Only Earpiece

AUD$43.00 (exc. GST) add to cart

Audio Accessories

IMPRES Remote Speaker Microphone

AUD$143.00 (exc. GST) add to cart

Audio Accessories

IMPRES Remote Speaker Microphone with Volume Control (IP57)

AUD$180.00 (exc. GST) add to cart

Audio Accessories

IMPRES Noise Cancelling Remote Speaker Microphone

AUD$124.00 (exc. GST) add to cart

Audio Accessories

Submersible IP57 Remote Speaker Microphone

AUD$170.00 (exc. GST) add to cart

Audio Accessories

Remote Speaker Microphone

AUD$124.00 (exc. GST) add to cart

Wireless Solutions

Operations Critical Wireless Push-To-Talk

AUD$144.00 (exc. GST) add to cart

Audio Accessory

Receive-Only Flexible Earpiece

AUD$103.00 (exc. GST) add to cart

Audio Accessory

Receive-only Earpiece

AUD$71.00 (exc. GST) add to cart

Headsets

IMPRES Temple Transducer

AUD$502.00 (exc. GST) add to cart

CARRY ACCESSORIES

Black Waist Belt 2"

AUD$38.00 (exc. GST) add to cart

Carrying Solutions

Waterproof Bag with Large Strap

AUD$57.00 (exc. GST) add to cart

Carrying Solutions

Adjustable Carry Strap

AUD$36.00 (exc. GST) add to cart

Carrying Solutions

Universal RadioPAk™

AUD$98.00 (exc. GST) add to cart

Carrying Solutions

Universal Chest Pack

AUD$177.00 (exc. GST) add to cart

CHARGERS & VEHICULAR ACCESSORIES

IMPRES Single Unit Charger

AUD$158.00 (exc. GST) add to cart

SERVICE AND REPAIR

Portable Programming Cable (USB).

AUD$170.00 (exc. GST) add to cart

Carry Case

Leather Carry Case with 3" Fixed Belt Loop (full keypad)

AUD$98.00 (exc. GST) add to cart

Carry Case

Hard Leather Case 3" Swivel Fixed Belt Loop (non-display)

AUD$98.00 (exc. GST) add to cart

Carry Case

Hard Leather Case 3" Swivel Belt Loop (full-keypad)

AUD$98.00 (exc. GST) add to cart

Carry Case

Hard Leather Case 2.5" Swivel Belt Loop (full keypad)

AUD$98.00 (exc. GST) add to cart

Carry Case

Hard Leather Case 2.5" Swivel Belt Loop (non-display)

AUD$98.00 (exc. GST) add to cart

Carry Case

Nylon Case 3" Fixed Belt Loop (full keypad)

AUD$56.00 (exc. GST) add to cart

Carry Case

Nylon Case 3" Fixed Belt Loop (non-display)

AUD$56.00 (exc. GST) add to cart

Carry Case

Hard Leather Case 3" Swivel Belt Loop (non-display)

AUD$98.00 (exc. GST) add to cart

Radio Antenna

VHF/GPS Combination Stubby Antenna (146-160 MHz)

AUD$23.50 (exc. GST) add to cart

Radio Antenna

UHF/GPS Combination Stubby Antenna (403 - 450MHz)

AUD$24.00 (exc. GST) add to cart

Radio Antenna

UHF/GPS Combination Stubby Antenna (440 - 490Mhz)

AUD$24.00 (exc. GST) add to cart

Radio Antenna

UHF/GPS Combination Stubby Antenna (470 - 527 Mhz)

AUD$24.00 (exc. GST) add to cart

Radio Antenna

UHF/GPS Combination Whip Antenna (403-527MHz)

AUD$24.00 (exc. GST) add to cart

Microphone

MOBILE MICROPHONE WITH BLUETOOTH GATEWAY

AUD$412.00 (exc. GST) add to cart